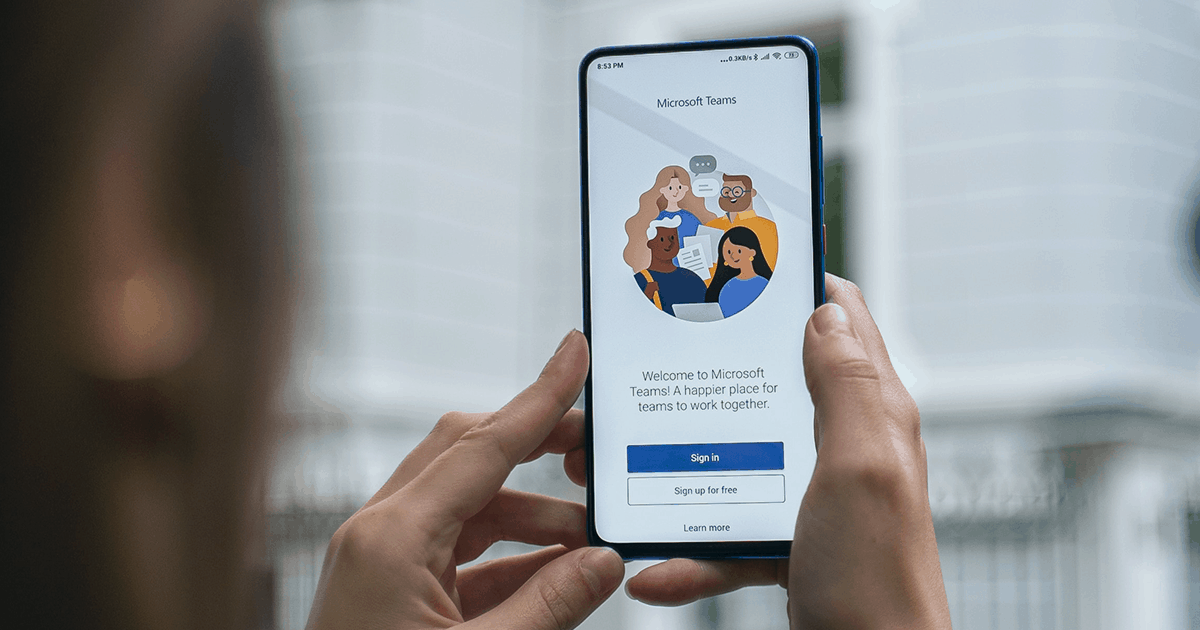 How To Add A Microsoft Teams Link To Your Email Signature
Microsoft Teams Makes it Easy for People to Connect to You
When you add Microsoft's Team Chat link to your email signature you make is really easy for contacts and businesses anywhere in the world connect to you!
Email signatures are fantastic tools for helping people we approach connect back with us. With online chats and video conferencing now part of everyday communications, you really need to include links in your email signature to the collaboration apps you use. For example, if you have Office 365 and Teams it's a good idea to add a Teams shortcut link to your Outlook email signature.
When activated, the Teams link takes recipients straight to your Teams Chat channel – even if they don't have Teams open at that time! It's a simple way to encourage someone you message to respond back to you quickly.
Creating your own Teams Chat Link
Before you add any links to your email signature, make sure it's in line with your internal company policies. For example, your HR or internal marketing team may have an email signature template they want you to follow. Taking a moment to check won't harm your kudos with them, and you may gain extra merit points if they don't already know that everyone with Teams has this option available to them.
When you're ready to add the Teams link, start by opening a new email from Outlook.
The email will have your existing signature. Use it to pick the position you want to add the new link (or where you've been told to add it!) and type, 'Chat with me on Teams!'
Now you need to add a hyperlink that redirects anyone who clicks on 'Chat with me on Teams' to your Teams channel. With your cursor, select 'Chat with me on Teams' and click on 'Insert', then 'Link' in the menu bar. A pop-up box titled, Insert Hyperlink, will appear. In the 'Address' box type in the following:
https://teams.microsoft.com/l/chat/0/0?users=[add your email address here]
For example,
https://teams.microsoft.com/l/chat/0/[email protected]
Now that you've created the hyperlink, you can make it look good and match your branding by selecting the font type, size and colour you want. I also added the Teams icon to my link, to make the connection to Teams easy to identify.
Once you're happy with how it looks, select your entire signature and copy it (CTRL+C).
Now you're ready to copy your new signature into your Outlook mailbox. In Outlook open:
FILE – OPTIONS – MAIL – SIGNATURES
Select the signature you want to edit and paste what you've copied to replace your old signature. Click OK, and you're done. As a final check, open a new email and check your new signature looks good ask a teammate to help check the link is working.
Do you need help with your IT Support?
Why Microsoft Teams is More Than a Video Conferencing App
With businesses relying more heavily on online tools to connect and collaborate, many are questioning why use Microsoft Teams when they can download and use Zoom for a minimal outlay. Zoom is certainly a good product, and they've worked quickly to address unforeseen security issues that occurred in the early days of lockdown. There are, however, three good reasons for using Microsoft Teams over Zoom.
Firstly, if you subscribe to Office 365 then you already have Teams. So why spend more money on something you already have?
Secondly, Microsoft Teams has been designed as a collaboration tool for teams, not just a video conferencing app. It integrates easily with other Office 365 applications.
Teams makes conversations, file sharing, co-authoring of documents, discreet side-meeting conversations, project tracking, and much more, easy to initiate and manage. And it does video conferencing. The one feature of Teams that has been disappointing – it's inability to share more than nine participant screens in a meeting – is currently being addressed. Microsoft have announced Teams will soon support sharing of 49 participants in a single meeting.
Thirdly, Teams is covered by Microsoft's enterprise-level security with Azure Active Directory. As part of the Microsoft 365 and Office 365 services, Microsoft Teams follows all the security best practices and procedures such as service-level security through defense-in-depth, customer controls within the service, security hardening and operational best practices.